Extreme Sports Resort




Location TBD

+

Rocketman initially planned to develop a modest 12,000 square-foot DareDevel Hall of Fame adjacent to the Knievel jump ramp in Twin Falls, Idaho. A market analysis led to their decision to build the project in a well-populated urban center of the United States Southwest -- and to expand it to over 50,000 square feet. The facility features exhibit space, an IMAX theater, three motion simulator rides, a concert hall, a conference center, two restaurants and a full bar.


The 9,000-seat amphitheater is designed into the existing topography, with zip lines and BMX trails running alongside it into the canyon below. The aerial tram glides past the amphitheater, offering passengers a birds-eye view of popular musical acts during performances.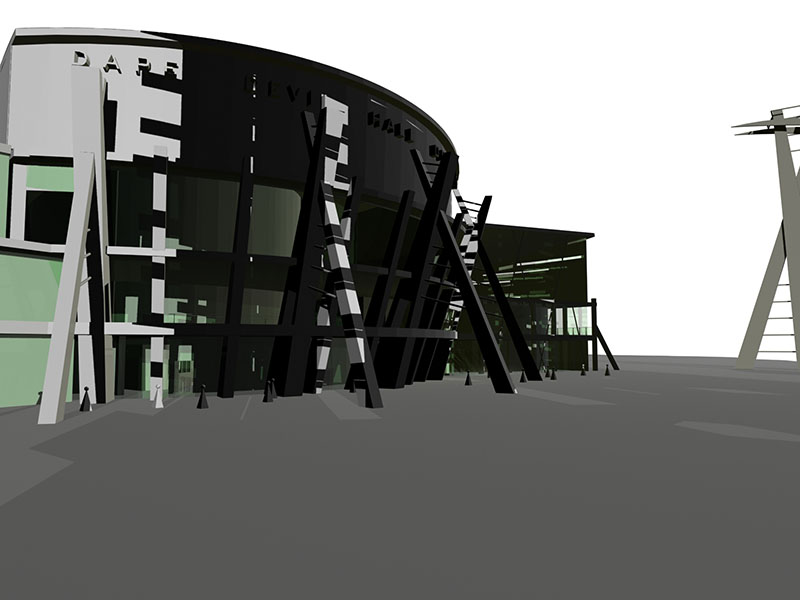 DareDevel Hall of Fame




Location TBD

+

We were engaged by Rocketman Productions of Chicago to design this unique facility in 2007. To celebrate the 35th anniversary of Evel Knievel's attempt to jump Idaho's Snake River Canyon on a motorcycle, Rocketman has developed a reality television event. Dubbed "DareDevel," the show seeks to identify America's "greatest daredevil" through a six-episode televised competition. The winner will pilot a custom-designed rocket car across the Snake River Canyon in close proximity to Knievel's historic jump site. This design was the predecessor to the Hall of Fame which we designed for the Extreme Sports Resort.